Hot chocolate... *sigh* how I will miss you.
This is probably my all time favorite drink. If it could be called one. Perhaps it's really just a liquid desert. Either way, I have finally taken control of my eating and exercise and hot chocolate is not in the plan. I'm sorry to see you go little fella. Some day, we will meet again and I shall treasure every sinful drop! Funny thing about New Year's resolutions, do we make them only to break them? I think I've started some kind of a healthy routine perhaps three times since the first of January and have fallen flat on my face. Well I'm fed up! I've been minding my p's and q's, or peas and carrots... and am down eight pounds! I know it's probably mostly water weight, but hey, take the points were you can! I've still quite a ways to go before at my glorious pre-baby body. I will get there! So help me.
***
Last year it seemed that so many of my friends and family were having babies that I started making felt cubes to give as shower and birthday gifts. I call them cuddle cubes. Here's a shot of both the front and the back. The sides have letters in coordinating colors.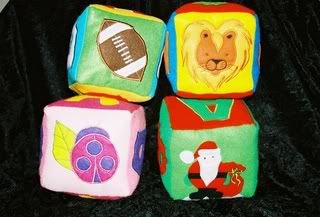 They were actually pretty fun to make. I have a few more in the works, behind the jesters and balloons and caricatures! I'll get to them some day.
***
Last night I finished reading My Sister's Keeper by Jodi Picoult. Oh My God! I cried and would have kept it up if my son hadn't been fussing nearby. Thank goodness too, he pulled me back down to earth. What an amazing book. I would love to see this as a movie someday. I think it would fare very well on the big screen. Now I will have to pick up another book by Mrs. Picoult. Thanks Jill for the suggestion!